by: Gianika Viktoria
A bathroom is a peaceful sanctuary where we spend most of our time in doing personal things. It's a very important place where we spend time for ourselves alone.
One thing that is a very important element in the bathroom is the lighting. The bathroom should be properly illuminated so we can personal tasks such as fixing our hair, brushing our teeth, and shaving efficiently. A bathroom is not a safe place without proper lighting. With poor lighting there's a greater tendency for accidents to happen.
Bathroom Through Proper Bathroom Lighting
There are many benefits to having proper lighting in the bathroom. The lighting greatly affects the mood in the room. You can enhance the beauty of your room and can create a relaxing ambiance if there's good lighting in it. The following should prove helpful in creating a relaxing atmosphere in your bathroom:
* To start with, make sure to install the bathroom lighting fixtures properly so they can function correctly. By doing so, you can also prevent potential hazards such as electrical shock as we all know that water and electricity must not come in contact.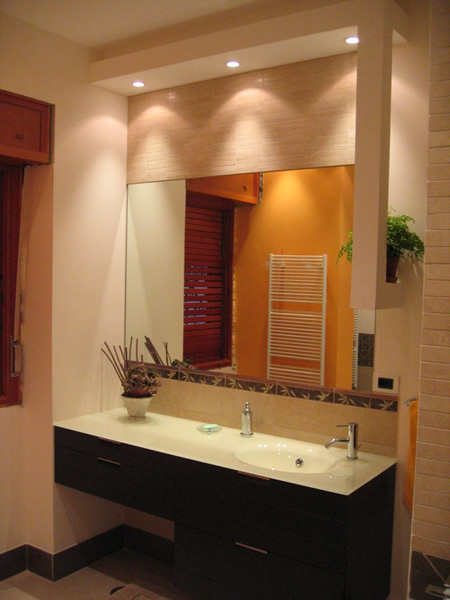 Bathroom Through Proper Bathroom Lighting
* The lighting should not create a glare effect in the room rather just provide the exact level of brightness. It should not create shadows, especially in the bathroom vanity area or in the mirror where we need to see our face when applying make-up or shaving. We can't see the right reflection and all the angles of our face if there's a shadow. You may put lighting fixtures on the sides of the bathroom mirror to eliminate shadows and use covered light bulbs to avoid glare.
* To make the bathroom look larger, choose a lighting that has a softer shade. It helps to create an illusion that makes the bathroom look larger.
Bathroom Through Proper Bathroom Lighting
* Also, in choosing a shade of lighting fixture, the lighting should match with the walls and the décor of the bathroom. It's quite odd and distracting if there's no harmony in the design of your bathroom.
* To create a relaxing ambiance in the bathroom, fresh and natural air that circulates in the room and a natural light that comes in the bathroom window also helps.
Related Posts :